Full Stack Development Training
Full Stack Training Levels : Intermediate (8 months), Professional (1 year), Master (2 year).
HTML
CSS
JavaScript
Bootstrap
PHP
MYSQL
Wordpress
portfolio
Cpanel
Visual Studio
Project Setup
Full Stack Web Development Course in Delhi
Join the best full stack development course at Hedkey india pvt ltd top full stack development institute in delhi for every person who is learning coding or wanna enhance their skill set in the IT Industry. Our Full Stack Developer course will help you to gather expertise in the new front-end technologies and back-end technologies.
Gain the top full stack developer course skills knowledge like HTML 5, CSS 3, Bootstrap 5, Javascript, jQuery, React Js, Angular, Node JS, Bulma, Sass, Tailwind, PHP, MySQL, Ajax, Json, Laravel framework, Codeigniter Framework, Express JS, MongoDB, Java Advance, Woo-Commerce, Wordpress (CMS), portfolio, cPanel, Web Hosting, tools like Visual Studio, Github, Project Setup.
This Full Stack Web Development certification by Hedkey India has been created with the objective to provide important skills and languages that will help you gather your dream job. As a certified full stack developer you will get a job role on Web Developer, Web Designer, Full Stack Developer, Back-end Developer, Front-end Developer.
We don't ask any special qualifications from our learners who want to gain complete full stack knowledge. Anyone with basic knowledge of programming can join our full stack developer courses.
If you take full stack developer course by hedkey india, Our trainers can provide students with important skills in the IT industry. We provide both offline and online full stack developer training with practical classes.
What is Full stack web development course
It means building complete websites or web applications from the user interface to the back database. That allows you to handle both what users see and how the website works behind them. In the full stack course you will get practical knowledge with industry expert trainers. They will clear all your doubts while making it, instead of making it on your own.
Other Courses Offered
Professional digital Marketing Course:- 3 months Course
Master digital Marketing Course:- 6 months Course
Intermediate website designing course:- 3 months Course
Professional web designing course:- 6 months Course
Master web designing training:- 12 months Course
Basic python development course:- 2 months Course
Advanced python developer course:- 4 months Course
Intermediate full stack course:- 8 months course
Professional full stack developer course:- 1 year course
Master full stack training course:- 2 years course
Professional mean stack course:- 6 months course
Professional mern stack course:- 6 months course
What About The Course
If you are looking for a full stack web development institute in delhi with placement offers and job supports, then hedkey india is the great choice for you. If you are a student who wants to become a full stack web developer, a professional who wants to upgrade skill, or a graduate who doesn't know about coding can join this full stack developer course in delhi, India.
This full stack training program is updated and relaunched according to the latest tools and technologies in the industry, which helps you a lot in work and gain extra knowledge from other developers. Hedkey India provides both offline and online training classes with zoom meeting and google meet. Before joining this course, you can take a free demo with our trainer to check the speciality of training classes.
100% Practical Full Stack Certification Course in Uttam Nagar, Dwarka, Delhi, India
As you know by the heading, we provide a complete full stack developer certification course with 100% practical training with our expert faculty in delhi. Which have 2+ years of experience in full stack. You will get PC facilities for practice and can clear your doubts. Get Complete training from basic concepts like HTML 5, CSS 3, Javascript, Bootstrap 5, PHP to advanced concepts like React Js, Node JS, Ajax, Json, Java Advance.
After completing the training you will get a certificate with red, black and white colors combinations, which shows your skill set and expertise in full stack development. We provide training in uttam nagar, dwarka mor, janakpuri and ( Delhi + india). For more information you can contact us and our team will contact you as soon as possible.
Benefits of Learning Full Stack Web Development Course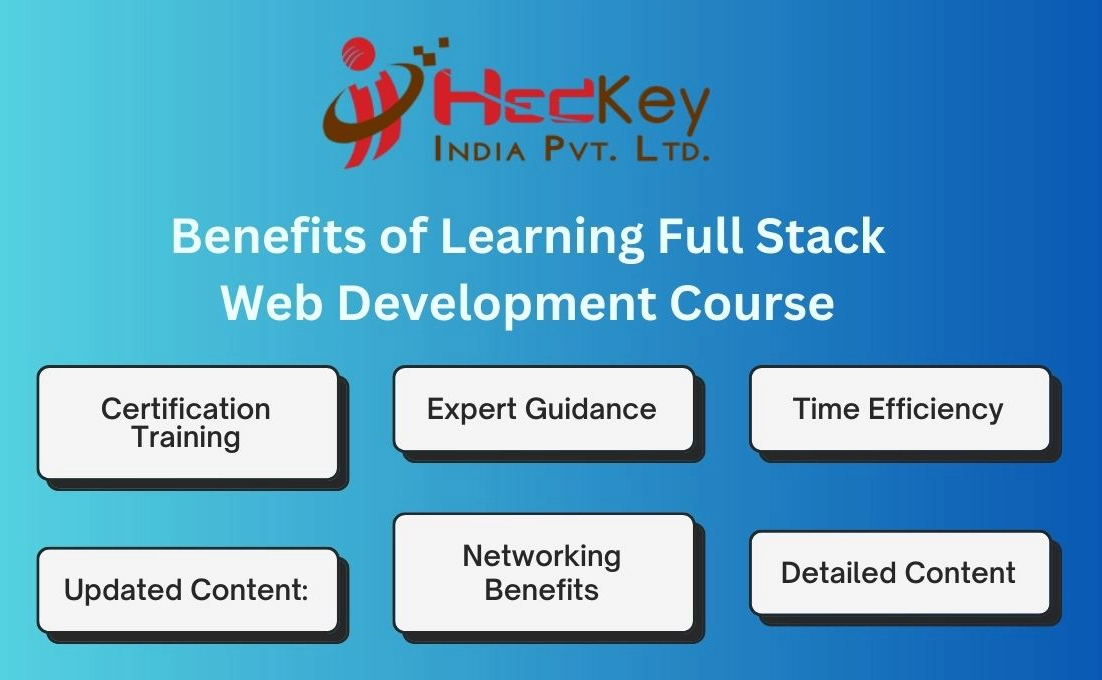 There are many other benefits if you join a full stack developer course at Hedkey india pvt ltd:-
Certification Training:- If you complete your course and earning a certificate will be a value addition to your resume, showcasing your commitment and skills to your potential employers.
Expert Guidance:- Hedkey India provides Instructors who have 2+ years of experience in full stack skills, who can provide insights, explanations, and guidance, helping you to solve challenges and understand concepts clearly.
Time Efficiency:- Hedkey India Courses provide structured learning, and saving your time by avoiding the need to search for tutorials and resources.
Updated Content:-We are Reputable institutes, and frequently update our course module according to industry new trends and technologies.
Networking Benefits:-you will learn full stack at hedkey india so there are more other students who also learn the same thing. So, there are benefits to making new friends in your niche and asking questions or can clear your doubts easily.
Detailed Content:- our full stack web developer course online is detailed and designed by professionals according to the latest tools of full stack and latest technologies of full stack.
Career Scope & Job Opportunity after Full stack certification
There are multiple scopes and job opportunities after the web designing course.
Full Stack Developer
In this You are responsible for designing user interfaces, testing features, managing databases, and also ensuring the smooth working of the application. Basically you work on both front end and back end development.
Web Developer
They mainly work on creating and maintaining websites and applications. To do this you need to be skilled in HTML, CSS, JavaScript, and other back end technologies.
Front-End Developer
You need to focus on creating visually appealing and responsive user interfaces using HTML, CSS, and JavaScript. They mainly work on user interfaces.
Who is eligible for this course?
There is no minimum requirement Anyone with basic computer knowledge can apply for this full stack course. Our Industry experts will cover everything from basic to advanced. Anyone can apply for this full stack course online and offline with experts.
If you are a student with 12th pass, graduate, post graduate, professional who wanna upgrade or recall skills, beginner coders, entrepreneurs, or who are searching for the best full stack development course near me can join hedkey india and any person who wanna become an expert in full stack.
Full Stack Development Course Fees & Duration:-
When it comes to fees of a course, it should be according to every student. Our full stack development course fees are designed according to every student who wants to learn basics, medium level or intermediate level. We have 3 types of programs and the fee is according to its module and facility.
Program Types
Course Duration
Fees Structure
Intermediate Full Stack training Course
8 months Course
Only 45K
Professional Full Stack Developer course
1 Year Course
Only 80K
Master Full Stack Development program
2 Year Course
Only 125K
Contact details: Hedkey India Pvt Ltd

Curriculum of Our Full Stack Development Course Syllabus:-
HTML 5
CSS 3
Bootstrap 5
Javascript
jQuery
React Js
Angular
Node JS
Bulma
Sass
Tailwind
PHP
MySQL
Ajax
Json
Laravel framework
Codeignitor Framework
Wordpress (CMS)
portfolio
cPanel
Web Hosting
Visual Studio
Github
Project Setup
Express JS
Mongo DB
Java Advance
Resume
Woo-Commerce
How Our Full Stack Developer Institute Work
Get Custom and Unique design with world-class technologies
Full stack developer Course Demo
We provide two free demo classes, So, that you can check the expertise of our trainers and for quality of training in full stack. You can take demo classes in online & offline mode. You definitely feel 100% satisfied with full stack training.
Professional Training By Experts
In Hedkey india you will get training by our experts for full stack development training course in Uttam nagar. You will gain years of experience by our expert developers.
Project Based Training
You will get project based training in this Professional full stack development course. Our trainers will help you to make a project faster which will help you get a job with a high salary package.
Job Placement Assistance
After completing the full stack developer course, we will ensure that you get a placement in an IT company with a great package. Because we focus on your growth. We provide many placement offers without any limitations.
Certification Training in full stack
You will get a professional certificate after completing your full stack development Course Training by Hedkey India.
Interview Preparation and Get a Job
We will provide you a checklist for interview preparation to get a job fast like dressing sense, important questions, and more. You will get many offers for jobs with different companies with industry.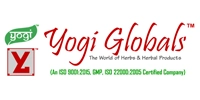 Why You Choose Hedkey India?
This full stack Certification Program in Uttam nagar offers detailed training on HTML 5, CSS 3, Bootstrap 5, Javascript, jQuery, React Js, Angular and more.
Industry-Expert Trainers: Our full stack course is designed and taught by industry professionals who have years of experience and insights to the classroom. You will gain real world knowledge, practical skills, and the latest trends.
Positive Learning Atmosphere: Our positive and supportive learning atmosphere, creativity and collaboration, making your learning journey memorable.
Flexible Learning Options: we offer flexible learning options, also both online and offline batches, allowing you to choose what works best for you.
Practical Projects: You will work on real world projects that create challenges you will face in the companies. After completing your full stack course in Uttam nagar, you'll have an impressive portfolio showcasing your diverse skills.
Personalized Attention: We provide small classes in full stack development in Uttam nagar to ensure that each student gets personalized classes.
Now, grab all these facilities with Hedkey India Web Designing Course in Dwarka, Uttam Nagar and Delhi.
Hedkey India Trainer's Profile for Full Stack training
Hedkey India trainers are experts in their field and have years of experience in IT companies.
Our Trainers are certified professionals with years of experience in their work.
Our trainers are MNCs working professionals for 1+ year.
Our trainers look at the students' knowledge and work according to it.
They handled 3+ projects including hedkey india and sithub website.
Get a quote today
Get response within 24 hours
Top Full Stack Development Training topics
If you wanna become a full stack developer then you should know about these important concepts like HTML 5, CSS 3, Bootstrap 5, Javascript, jQuery, React Js, Angular, Node JS, Bulma, Sass, Tailwind. You will learn all these concepts in this full stack development training course with projects.
In addition, you also should know about PHP, MySQL, Ajax, Json, and frameworks like Laravel framework, Codeigniter Framework, Wordpress, and tools like cPanel, Web Hosting, Visual Studio, Github, Express JS, MongoDB, Java Advance, Woo-Commerce.
Students Google Review
we work hard to earn trust of our students, Here are few of them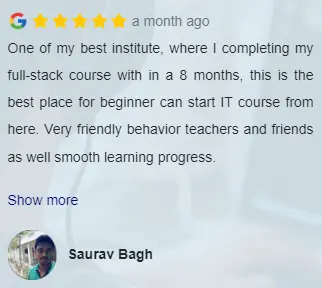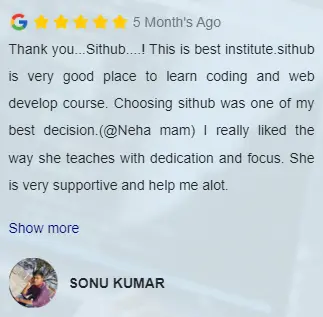 FAQs on Full Stack Development course
Q. What are the Course fees?
Ans.We have 3 types of courses like intermediate full stack course and the fees is 45K, professional level full stack development course fees is around 80K and the final one is master level full stack course fees is around 125K.
Q. Will I receive any placement offer?
Ans. Yes, after the course completion you will get many placement offers, and you need to go for an interview.
Q. Will I receive any certificate after completing the full Stack Course?
Ans. Yes, after completing the course you will get a professional certificate for your expertise in this skill and this will attract your potential employers in interviews and any social media platforms.
Q. Can I take full stack classes online?
Ans. Yes, we also provide online full stack development courses for the students who can't attend offline classroom training.
Q. What's the duration of the full stack course?
Ans.The Duration of the intermediate course is around 8 months, the professional level course is around 1 year, and finally the master level course is around 2 years.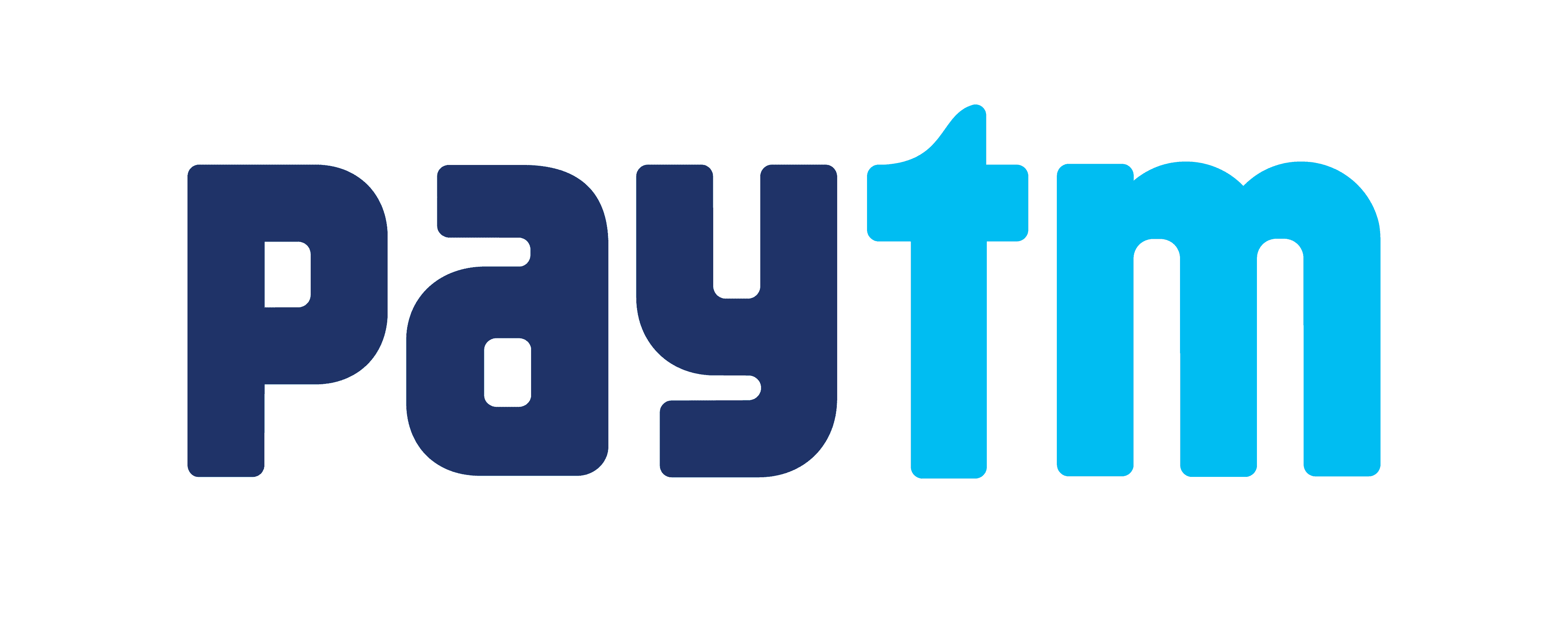 Get a Quote